Scotiabank Charity
Challenge 2023
With an inclusive virtual formula!
Run for kids living with type 1 diabetes in the Scotiabank Charity Challenge!
The kick-off for the 2023 edition of the Scotia Challenge is given.
For the second year in a row, the Scotia Challenge offers an inclusive virtual formula that allows you to stay in shape and surpass yourself, despite the constraints, while supporting Fred.
The challenge will be as follows: Registration will be done on the Race Roster platform from January 31 2023.
The proposed distances for the 2023 event are as follows: 21km, 10km, 5km
21km, 10km and 5km
Take the challenge at the location of your choice

April 1 to Mai 31, 2023
Join a community of committed athletes at
Jean-Drapeau park on
April 22, 2023
and make a concrete gesture for young people with DT1!

1 Circuit Gilles Villeneuve, Montreal, QC H3C 1A9
The Scotia Challenge is more than a race, it's also a T1D awareness campaign
Living with type 1 diabetes can be a stressful experience for both children and their families. The constant need for insulin shots, blood sugar monitoring, and careful meal planning can be emotionally and physically challenging. The impact on children's mental health and self-esteem can also be significant, with many feeling isolated and different from their peers.
But there is hope!
FRED is committed to providing essential resources and support to help children living with type 1 diabetes and their families thrive. By participating in the 21K Challenge and raising funds for FRED, you can help us make a real difference in the lives of these children and their families.
Your commitment can bring hope and joy to children who often feel alone and overwhelmed. Your support can help fund vital resources and programs that make a meaningful difference in the lives of these children, such as sending T1D children to Camp Carowanis for free.
At Camp Carowanis, the only camp for children with diabetes in Quebec, these children can be among peers who understand their struggles and enjoy activities that help build self-esteem. self, confidence and independence, all supervised by instructors who also live with type 1 diabetes.
The participant will have to cover the selected distance between Saturday April 1st and Wednesday Mai 31, 2023. The challenge can be achieved by running in your neighborhood, in a park, on a trail that inspires you. We suggest that you form family bubble teams whether for practice or for challenge day.
When registering, select Fred from the charities.
The registration fees are administrative fees set up by this federated race. It is important to note that these costs do not go to the Foundation Resources for Type 1 Diabetic Children, but to the platform that organizes the race.**Note
Create your fundraising campaign on the platform.
Ask your friends, colleagues, family and friends to support you in your efforts by contributing to your fundraiser.
When you are registered, you will receive the necessary to proudly identify yourself in the colors of Fred.
In addition, you will receive your training jersey and medal by mail.
Also follow our posts for training tips.
Thank you for supporting our children!
Get your running shoes!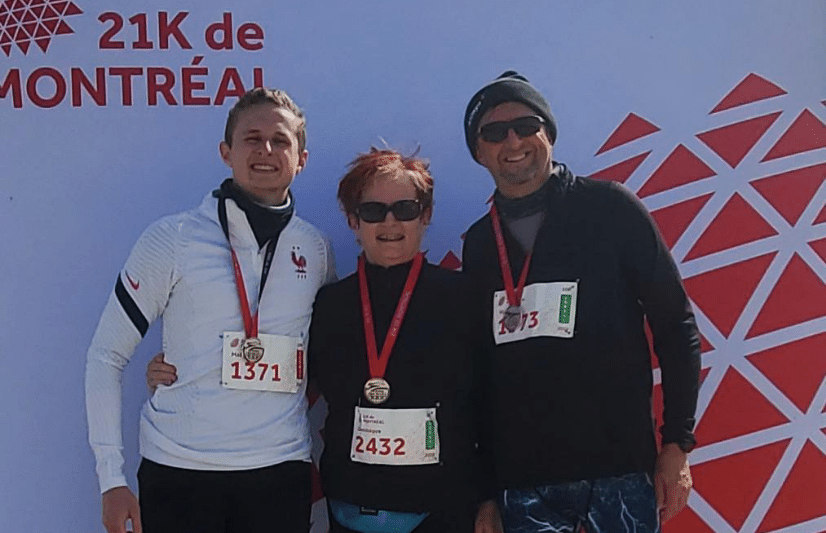 "Being a type 1 diabetic since the age of 7, I live with this autoimmune disease every day. Some, like me at the time, may see such a diagnosis as a burden. However today, after so many years, I consider it a discovery. This diagnosis led me to meet the people at FRED, without whom my life would be very different today. I grew up with FRED's support, both for me and for my parents. The people at FRED gave me confidence, supported me in my personal development and gave me opportunities that I never imagined possible. Today, it's my turn to give back to young people who go through the same journey as me.

»
Mathieu Lacasse, DT1 depuis l'âge de 7 ans.
La famille Lacasse a couru 10 km au Défi Scotia 2022
**Thank you for your interest in our charity team for the upcoming race! We are delighted to welcome you on board. To participate in our team, we have a minimum fundraising goal of $200 per runner, which will help support our cause.
If you are unable to reach the goal through donations, we kindly ask that you contribute the remaining balance to reach the goal by race day. We understand that this may not be possible for everyone and we encourage you to contact us if you need any help or guidance in achieving the goal.
We appreciate your commitment to our cause and look forward to welcoming you to our team.