Testimonial of Mélanie & Colin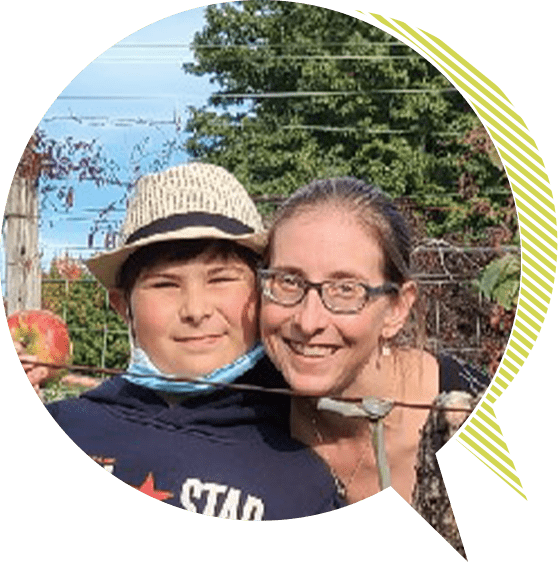 and his mother Mélanie Paré
Being a mother of a child with diabetes, one day at a time
When type 1 diabetes hits you, your whole world is turned upside down. Talk to Mélanie, mother of an 11-year-old boy, type 1 diabetic.
Can you tell us how you found out that your son was diabetic?
Colin was just five years old. He had lost weight. Colin has always been tough. I just thought he was growing taller and getting leaner. It was once, after the bath, that I realized that he was far too skinny. There, I understood. I took him to the hospital and he had to be kept.
When my son was diagnosed, it was difficult. At the same time, I've been seeing him for a while but it's like I don't want to see him. I work in the health sector and I had the signs. Despite everything, it's something you don't want to see, not your child. Never. I had two children, I was expecting a third. This kind of news, it falls on you.
How was the adaptation made?
At first it was horrible. Stinging your crying child is not easy. I like to tell myself that nothing happens for nothing and try to stay positive even if it's difficult. We were lucky, despite everything, we had good insurance.
The injections were made from July to April. Then it was the pump. Colin loves technology and thanks to insurance, we had good coverage. So it was relatively easier after he got his pump to manage his diabetes. However, the problem arose when Colin started school.
"The alternative school has made things easier"
Colin was diagnosed just before kindergarten. We gave training to the teacher but, during the year, I don't know why she no longer took care of it. For a month, it was the end of the world.
Finally, we opted for the alternative school. They are more open to differences and to what goes outside the box. It made things easier.
How do you feel your son is reacting to being diabetic?
Generally he takes that well. Despite everything, sometimes he cries: Why me? But it doesn't last long.
Colin is a regular at the camp. Did you see a difference?
Certainly. They are really amazing, so attentive to children. Meo, Shamane, Millimole and the others, they really know how to deal with children.
And you, did it help you, as a parent of a diabetic child, that Colin went to camp?
It helps me, because I am less alone in teaching Colin about diabetes and they have very concrete tips from young people who live with diabetes on a daily basis.< /p>
Knowing what you know today, what is your advice to other parents?
I think the most important thing to do is talk to other parents who have been there. It is important to connect families.
FRED allows families to exchange ideas and forge connections through numerous activities such as our coffee meetings, the T1D Discovery District (formerly Family Symposium), end-of-year family activities and other opportunities to get together.
Type 1 diabetes is not the end of the world
Colin, 11, has few memories of when he was diagnosed when he was just six years old. "I was drinking a lot of water and losing weight. » His mother, alerted by his weight loss, took him to the hospital where the verdict fell: type 1 diabetes. "Deep down, I knew it but I refused to see it. »
I stayed in the hospital for three days. I didn't quite understand what was happening. I was also afraid of injections. But everyone was nice to me.
At school, everyone asked questions
When I went to school, we did a presentation with my mother. Everyone was asking questions. My mother came to inject me at noon. Then I got the pump. Me, I like technology. Besides, later, I will have my technology store. Or maybe I'll go into politics. I don't know yet, it's a long way off.
It's always fun to go to Camp Carowanis
When I went to camp, I liked that. It's a twisted dynamic. This is a place where you are no different. It's the non-diabetics who are different. We've been to camp five times. Two weekends with my parents and I, I went alone three times. There are plenty of activities. Me, I like the CampCraft (survival in the forest) and the mayak (boat allowing to go on the water). But what I prefer is the banquet (party to mark the end of the stay). Besides, each time, I make a friend. I want to say to all those who are afraid to go: It's worth coming. It's the fun. You're not going to feel diabetic alone.
At Fred's, we are inspired by the strength and resilience of our type 1 diabetic youth who share their stories and adventures with us. These young people inspire us to work towards a brighter future for all those living with type 1 diabetes. That's why we are dedicated to supporting and advocating for our t1d youth through our foundation. We invite you to join us in this mission by making a donation and getting involved in our efforts to empower and support our t1d youth. 
Together, we can make a difference in the lives of these amazing individuals.